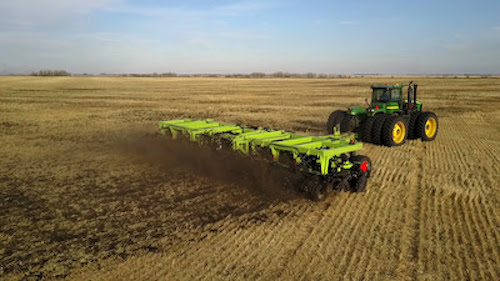 The SoilStar can do it all, from a light to an extreme tillage pass with aggressive concave discs; to a vertical tillage pass or seedbed preparation with straight discs, and everything in between. This is all accomplished with the ability to adjust the disc angle on the go from 0 to 22 degrees, along with the weight of 1,150 lbs/ft. The SoilStar's disc unit has an adjustable disc angle from 0 to 22 and is adjusted hydraulically from the tractor cab. This adjustable angle allows for aggressive primary tillage with concave discs all the way to true vertical tillage with straight discs.
Click here for more information.
---
The 5000 Stalk Devastator™ protects tires and tracks from stalk damage on equipment saving the expense of replacing tires. The spring-loaded rollers underneath the corn head knock over, crimp and crush stalks when rolling through the field resulting in faster microbial breakdown that leads to improved spring planting conditions.
It is quick and easy to install with mounting kits available for many different corn head models including non-chopping and chopping 20", 22", 30" and other widths. The Devastator™ works with most head carts when transporting corn heads.
Contact Yetter Manufacturing for further information.