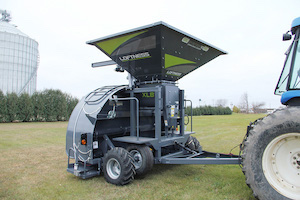 The XLB10 grain bag loader from Loftness holds 10-foot-diameter grain bags up to 500 feet long, unlike standard loaders that only fit 300-foot-long bags. The XLB10 also comes with a remote-controlled jib crane and trolley system, as well as a bag-loading apron, to reduce the amount of labor needed to install bags on the unit. Other new features include transport wheels, easy-access platforms and a grain sampling port. The XLB10 loads grain bags at a rate of 30,000 bushels per hour and offers thick steel construction for long-lasting, reliable performance.
Click here for more information.
---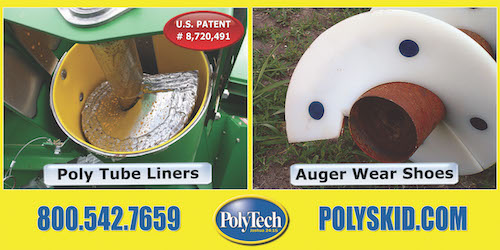 Poly Tech's patented Poly Last™ Tube Liners come pre-assembled for quick and easy installation and can be installed without removing the auger in most applications. They self-adjust to accommodate worn or new housings and include stainless steel hardware for extended service life. These liners are available for combines, grain carts, transport augers and anywhere there's tube wear!
Poly Auger Wear Shoes are designed to extend the life of the steel auger by covering new or worn steel auger flighting giving it strength and avoiding wear. Some applications include combines, grain carts, transport augers, bins and grain handling systems; wherever high volume and wear are a problem.
Click here for more information.
---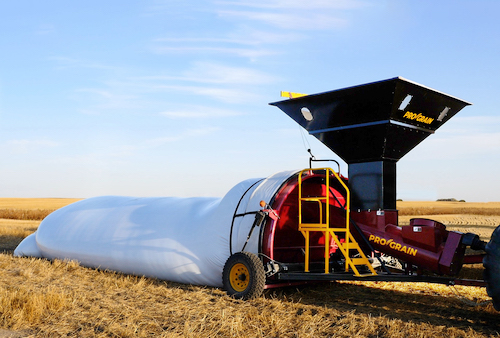 For over 30 years, Pro Grain Equipment has been manufacturing grain baggers and extractors to help farmers market grain for more money, harvest faster, and protect grain from weather. Bagger models capable of 32,000 bushels per hour, use 10 or 12 foot diameter bags up to 500 feet long. Pro Grain uses UltraFlyte™ flighting to reduce wear and increase capacity. Cradle bag lift system with KFI winch loads bags quickly and easily. Our designs are built farm tough, with common parts, and remains the most chosen brand for rental fleets. Pro Grain Equipment offers the industries best 2-year limited warranty.
Click here for more information.