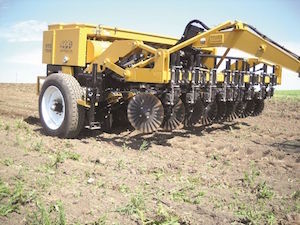 The Truax "On The Go" series grain and grass drill is different. It saves you time in the field and keeps you out of the maintenance shop. You can go from tilled conditions to no-till with the flick of a hydraulic lever. Wrenches are no longer needed to change from one mode to the other. Double-row bearings on the planter discs provide longer bearing life and reduced maintenance. An easy-access calibration nut lets you quickly determine your seeding rate, saving calibration time and reducing seed costs. Check out additional advantages of the "On The Go" drills and review our full lineup of seeding equipment.
Click here for more information.
---
Meet the new PL5700 from Great Plains — a front-folding, 30-inch row planter for farmers who want top-of-the-line planter accuracy without complicated technologies. In 12- and 16-row configurations, the PL5700 offers a choice of bulk tanks or individual row hoppers, as well as individual row control (IRC), hydraulic, or ground drive to best suit the customer's needs. The PL5700 features the new 5000 Series Air-Pro® meter, a simple, positive air pressure meter redesigned with a larger seed pool and seed inlet opening so it stays full at higher speeds, and the new 5000 Series row unit with ductile cast parallel arms for long-term row unit stability.
Click here for more information.