No-Till Farmer sent 7 staffers to the National Farm Machinery Show in Louisville this week. The show featured over 850 exhibitors, covering 27 acres of indoor space. A number of exhibitors expressed that the crowds were good and that the customers who they talked with were promising leads. 
Here's the top developments editors found impacting the North American farm machinery market. For more on what editors saw, heard and experience on the show floor, visit No-Till Farmer's Facebook and Twitter pages. 
New Tractor Introductions
New tractors made a lot of buzz in Louisville. Case IH, New Hollland, John Deere, Kubota and Deutz-Fahr had new tractor introductions at the show.
PFG America Launches Global Introduction of Deutz-Fahr Small Frame 6 Series
PFG America, the exclusive distributor of Deutz-Fahr tractors in the U.S., introduced the new small frame 6 Series tractors with FARMotion diesel engines. This was the global introduction for the tractor. "What we can show the American public with PFG America globally unveiling this tractor, is Deutz-Fahr's commitment to the U.S. market. By unveiling a new series of tractor to the U.S. before the European market, we're showing the strong anticipated growth in North America," says Craig Maber, president of Deutz-Fahr USA.
Since 2016, Deutz-Fahr has offered the 6 Series Agrotron models that feature a large chassis and power ratings up to 225 horsepower. This new smaller chassis offering fits between the larger 6 Series Agrotron models and the smaller 5 Series and 5G Series models to offer a full line-up of agricultural tractors from 65 horsepower up to 336 horsepower.
Two models of the new 6 Series will be available in the U.S. market – 6130 and 6140 – with 126 and 136 engine horsepower, respectively. Multiple variants include a choice of power shift or TTV (CVT) transmission, selection of cabin and control layout, and the availability of a front-end loader by Quicke (Alo).
Case IH Introduces AFS Connect Magnum
The new Case IH AFS Connect Magnum series tractor builds on previous models with a host of new features, including a large full door, forward and rear cameras, LED beacon lights, guidance lights, cast wheel spacers and a completely redesigned cab.
The AFS Connect Magnum includes Case IH's new AFS Pro 1200 display with an integrated AFS Vision Pro operating system, which is based on Android technology. The new display allows growers to see, use and manage cloud-based data however they see fit for improved productivity. Yield mapping data, tractor hours, sensor information and much more can be accessed from inside the cab or desktop, tablet or mobile portals to improve management decisions.
"What's important about that is it's a technology that everybody uses," says Bill Weber, Case IH high horsepower tractor marketing leader. "The familiarity with the screen and the ability to adapt to it and be able to utilize it is very important."
This is a tractor designed to work for any user, adapting to their preferences and farming operations. It has all the buttons operators were used to in the cab but if someone wants to operate the tractor from the AFS Pro 1200, they can do so via touchscreen or encoder.
"This is a transition tractor," says Weber. "What I mean by transition tractor is we can't just go from buttons and switches to all electronics in one display. This tractor is the best of both worlds. You can run this tractor from an old school perspective or a new school perspective."
Other features new to the AFS Connect Magnum series tractor include:
New programmable hot keys
Multifunction handle
Better cab air conditioning
Increased storage space
Rechargeable flashlight
Multiple USB plugins
Case IH also unveiled the inclusion of mapping and two-way data transfer with their AFS Soil Command agronomic technology and the introduction of the AFS Harvest Command combine automation.
Deere Adds Horsepower, Faster Acceleration to 6R Tractor Lineup
John Deere has added two more models to its 6R series — the 6230R and the 6250R. The two new tractors are ideal for transport and haulage applications such as hauling hay, forage and slurry, says Anne Anderson, product marketing manager with John Deere. The two new models expand the upper limits of horsepower in the 6R lineup, reaching 230 and 250 rated engine horsepower.
The Infinitely Variable Transmission (IVT) ensure quick acceleration. There are two IVT options available. One capable of 25 mph top speed and one with a top speed of 31 mph. "These models really lend themselves to fast acceleration on the road," Anderson says.
A factory-installed Generation 4 4200 CommandCenter with an 8.4-inch color display is another premium feature included as base equipment, or farmers can upgrade to the optional 4600 CommandCenter. Customers can also add Field Documentation with an AutoTrac activation and section control and wireless data transfer if desired. 

Compared to the 6215R, the 6230R and 6250R feature a frame that's 4 inches longer and contributes to enhanced ride quality. Both tractors are factory-equipped with Triple-Link Suspension Plus (TLS Plus), which utilize two double-acting-control cylinders that act independently or together to dampen shock loads, while supplying a constant downforce on the axle for better traction. The suspension further improves ride comfort and traction during transport or in the field as well as increases pulling performance up to 10%.
Kubota Expands M7 Line with Deluxe Model
Kubota introduced the new M7 Gen 2 tractor to the company's agriculture tractor line, expanding its position in the livestock equipment market. There are three new models under the M7 Gen 2 line including the M7-132, M7-152 and the M7-172, ranging from 100-140 in PTO horsepower. Depending on the model there are standard, deluxe and premium grade options to further customize for performance and job function. The deluxe option is new to Gen 2, offering the same size and horsepower of the premium with hydraulic capacity but with standard type controls.
The M7 Gen 2 features a 30-speed semi-powershift transmission, upgraded from its predecessor's standard 24/24 transmission. The new transmission provides greater flexibility, allowing the operator to find the optimal gear for each job. The number of main gears has increased from four to six, and an auto shifting function evaluates range gear and then automatically adjusts engine output to improve acceleration performance under light loads. The new transmission maximizes productivity and increases efficiency.
The new M7 Gen 2 tractors will be available at Kubota dealers beginning April 2019.
New Holland Launches Genesis T8 Series with PLM Intelligence
New Holland Agriculture introduced its new Genesis T8 Series tractor with Precision Land Management (PLM) Intelligence built in-house from the ground up. 

The new Genesis T8 with PLM Intelligence has features ranging from advanced connectivity between operators, vehicles, advisors and dealers to improve productivity and reduce downtime, to customizable controls, improved visibility and enhanced comfort. 

"The Genesis T8 with PLM Intelligence has been carefully engineered to meet the needs of our customers. Based on firsthand input from farmers in the field, we've created a tractor that's literally built for the way they work," says Ken Paul, product marketing manager for New Holland, North America. 

Customizable controls allow every operator to adjust based on their preferences and requirements. The all-new cab features more accessible storage, increased power ports and vents, egress lights, and an ergonomic seat for optimal comfort. 
The Genesis T8 has complete integration of New Holland's advanced PLM platform, which utilizes ISOBUS Class III technology to keep farmers connected through MyPLM Connect and APIs to share and analyze data, and now to enhance support functionality through their local New Holland dealer. 
Kinze Teases New 4700 Planter
Kinze introduced its new 4700 planter model at the National Farm Machinery Show. It is offered with a 36-row 20-inch configuration with the Kinze 4000 series cast row unit for the first year. The 4700 planter will be offered in 24-row 20-inch and 24-row 30-inch configurations in the future. While Kinze didn't have the planter on its lot, dealers can expect to see it on their early order forms this spring, available for spring 2020, says Phil Jennings, Kinze service manager.
Jennings says the new planter was designed from the ground up. Key features include:
Kinze's latest planter technologies – the Blue Vantage display, Blue Drive electric drive and True Depth down force.
Three section frame with 15 degrees of tool bar flex up and down for ground contact.
120-bushel bulk seed fill capacity with hydraulic weight transfer (standard).
600-gallon liquid fertilizer (optional).
Broadband Barriers to Telematic Transformation
One of the key aspects to advancing wireless machine-to-machine communication is the capability to have reliable cellular coverage, especially in rural areas, says Dr. J. Alex Thomassen. At the Agricultural Engineering Technology Conference in Louisville, the precision ag professor at Texas A&M University spoke on the opportunity and obstacles of broadening broadband coverage to accelerate adoption of telematic tools by farmers. While the USDA has recently supported extension of broadband into rural areas, Thomassen says it's likely with rural businesses and residences in mind, and not necessarily on a field-by-field scale.
"The real difficulty we've got is the infrastructure is not there to support real-time and rapid communication of large data sets at this point," he says. "But there are ways we can develop systems that are point-to-point that are roving systems on ag machines. That's some of the technology we're going to see developed over the next 5-10 years because it's too expensive to ever have 5G coverage everywhere in the country."
Variable-Intensity Tillage: Gateway to No-Till and Strip-Till?
As more attention, and in some cases scrutiny, of soil and nutrient retention practices emerge, recent ag technology partnerships have the potential to reshape the tillage landscape. John Nowatzki, machines systems specialist with North Dakota State University Extension, detailed ongoing collaborations with two local ag manufacturers, Gates Mfg. and Summers Mfg. that have developed variable-intensity tillage technology. The concept compiles and analyzes soil test results, elevation and yield data and residue cover to assist with real-time decisions on tillage need. Nowatzki points to the recent emphasis on reducing erosion and nutrient runoff as a motivating factor for the partnerships, and as the technology develops, it could be a catalyst for more adoption of conservation tillage practices.
"There's rising interest among equipment manufacturers to develop this technology so operators can change intensity of a disc or depth of a shank," Nowatzki says. "It's a movement toward less tillage and an opportunity for no-till and strip-till. As a result, we'll see fewer fields with intensive tillage."
Clear Path for Blockchain in Ag?
With equipment automation and data connectivity areas of trending importance for manufacturers, our editors invited companies to offer a perspective how and when blockchain will emerge in ag. While still a vague concept for some — "give it another year and we'll have a better understanding" — said one OEM executive, others see more defined entry points and intersection with the industry.
Doug Applegate, owner of Praxidyn, has been working with Ag Gateway on traceability, tracking grain from the field to the processor and within the last year, tracking chemistries used on those fields. "Blockchain is getting more traction in ag," he says. "We're seeing it first in the fruit and vegetable markets, which is logical. There's been the ability to track those crops, but blockchain gives the process credibility because it's a distributed database that is virtually impossible to tamper with."
Organic Growth On the Cusp, with Right Approach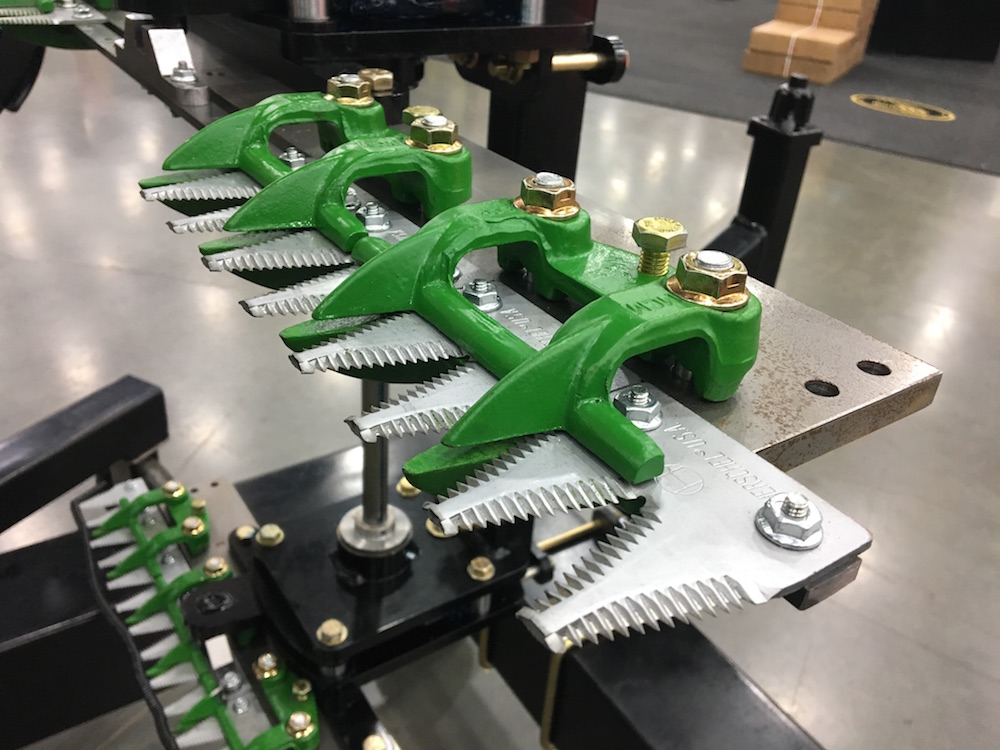 Organic farming was a topic of conversation in Louisville with several companies and famers offering perspectives on the potential and pitfalls of transitioning acres into the system. Equipment and technology manufacturers noted an increase in questions from farmers related to organic opportunities.
Small-scale experimentation and a strategic weed control plan were cited as necessities to capitalize on what can be a lucrative transition. Expanding on its Underground Ag line of machinery, Dawn Equipment Co. unveiled its RowMow weed management system, ideal for an organic no-till soybean system. Two levels of triangle-shaped blades mow weeds between rows and above.
The system will be field tested in 2019, and Dawn president Joe Bassett sees momentum building for organic practices, particularly in no-till, provided farmers see a consistent economic return. "I believe organic no-till, from a theoretical standpoint, is the highest profit margin farming system," Bassett says. "Growing organic, no-till soybeans is a disruptive technology because farmers will buy less stuff in that system. But if it works, it's going to catch fire."
C&M Transplanters for Industrial Hemp
Checchi & Magli (C&M) has been making vegetable transplanters for many years, but the legalization of industrial hemp is providing new markets for the equipment. Featuring several different models with 1-12-rows, C&M manufactures transplanters for plugs and starts of all varieties. While their transplanters were originally designed for use in a traditional tillage environment, the addition of Martin no-till row cleaners made the machines useful in no-till systems as well.         
C&M transplanters are widely used in tobacco production and many growers who have begun growing CBD (cannabidiol) hemp through state pilot programs in the past few years have discovered that CBD hemp can be produced following a similar model to tobacco and is well-suited to being planted with the C&M machines. Starts can be planted directly into the ground or they can go in through a layer of plastic that gets laid down first. Rows are adjustable from 20-80 inches and plant spacing can be configured from 17.75 – 78.75 inches. Five different shoe sizes will accommodate starts from 1/3-1 2/3 inches across at the base and multiple tray racks allow for less frequent stops and improved efficiency. Transplants are set straight up in the soil and packed firmly in place. Some models of translplanters will even water your plants right after planting.
Now that it is legal to grow hemp, thanks to the passage of the 2018 Farm Bill, which declassified industrial hemp as an illegal substance, growers can now get their foot in the door with this new (to the U.S.) crop.
Related Content
Videos from the 2019 National Farm Machinery Show
Farm Equipment Editors Share 'Biggest Newsmakers' Out of 2018 National Farm Machinery Show