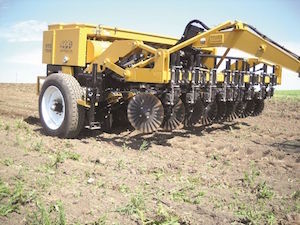 The Truax "On The Go" series grain and grass drill is different. It saves you time in the field and keeps you out of the maintenance shop. You can go from tilled conditions to no-till with the flick of a hydraulic lever. Wrenches are no longer needed to change from one mode to the other. Double-row bearings on the planter discs provide longer bearing life and reduced maintenance. An easy-access calibration nut lets you quickly determine your seeding rate, saving calibration time and reducing seed costs. Check out additional advantages of the "On The Go" drills and review our full lineup of seeding equipment.
Click here for more information.
---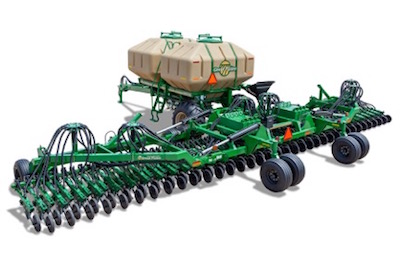 The Great Plains 45-foot Air Drill (CTA-4500) offers producers greater efficiency in the field. It features a large capacity dual-bin design for flexibility to fill each hopper as needed. Each implement comes equipped with the standard 00 Series Openers or 00HD Heavy-Duty Offset Opener Blades, aiding in penetration.
The CTA-4500 uses constant hydraulic down pressure and seed tubes with trailing flaps to optimize seed placement. Despite its size, the short-coupled implement offers exceptional maneuverability both in the field and in preparation for storage. It is capable of 6-, 7.5- or 10-inch row spacings as a min-till to light no-till product.
Click here for more information.
---
APV America's PS Series pneumatic seeders are ideal for demanding operations: hopper capacities of up to 45+ bushels and 16 or 32 outlets serve implements exceeding 60-feet (depending upon seeding rate and field speed) while you manage operations with an industry leading control system (touch screen optional) and GPS speed sensor. APV offers eight metering rolls — that change in minutes not hours — to accommodate all seed sizes and blends. Designed to minimize sifting and with an available carrier to take the weight off your implements, these seeders are designed by farmers for farmers.
Please visit GoAPV.com/Seeders for more information.